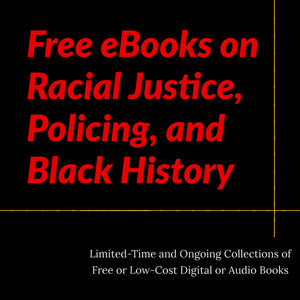 Free eBooks on Antiracism, Policing and Black History in America
There are so many resources available for exploration of the histories that aren't widely known, for how our conflicts of today have arisen over decades, and how we can address these issues going forward.
There's a lot to take in, so I thought it would be useful to sort what's available by specific topic, so that folks can get straight to what they need to address what is most pressing for them.

It seems obvious, but if you can pay for these, do so, preferably from a black-owned bookstore. But if you can't, don't sweat it until you can. Income inequality is one of the oldest and most effective means of subjugation, partially because to be informed takes both money and time. It is no mistake that chronically underpaid people are deprived of both.
This list is only of offers that last beyond the end of June, broken down by topic. Each work will have a separate link, and the various collections will be listed at the end.
Policing and Abolition

Who Do You Serve, Who Do You Protect?

Police Violence and Resistance in the United States

Edited by Joe Macaré, Maya Schenwar, and Alana Yu-lan Price

from

HaymarketBooks.org

Against Police Violence
including Angela Davis, Assata Shakur, Huey P. Newton, and more.
from Seven Stories Press
Invisible No More:
Police Violence Against Black Women and Women of Color
by Andrea Ritchie,  intro by Angela Davis
From Barnes & Noble
The End of Protest
How Free-Market Capitalism Learned to Control Dissent
by Alasdair Roberts
From Cornell University Press

City-specific

Black Lives and Spatial Matters
Policing Blackness and Practicing Freedom in Suburban St. Louis
by Jodi Rios
From Cornell University Press
New Deal Ruins
Race, Economic Justice, and Public Housing Policy
by Edward G. Goetz (Atlanta, Chicago, New Orleans)
From Cornell University Press

Black History

Black Women in the Ivory Tower, 1850-1954:
An Intellectual History
by Stephanie Y. Evans
From Barnes & Noble 
"We Will Be Satisfied With Nothing Less"
The African American Struggle for Equal Rights in the North during Reconstruction
by Hugh Davis
From Cornell University Press

In the Words of Frederick Douglass
Quotations from Liberty's Champion
by Frederick Douglass
Edited by John R. McKivigan and Heather L. Kaufman
From Cornell University Press

Audio Books
Time-limited:
Cornell has made their collection of books on policing, inequality and Black history available for free for several months in order to contribute to discussions and growth on this issue.

The free ebooks on policing and police violence listed at BookRiot have various expirations, so get them while you can.

Consistantly available:
Project Gutenberg has long housed vast quantities of text, though by doing so it demonstrates how not all texts are equally valuable. This Index of Works on Black History includes works on white history and straight-up fiction that the indexer deemed relevant. I only recommend it for the many Black voices therein.
The Digital Book Index is also rather outdated, and more international in scope, so less specific, but still available if you're interested in perspectives across time and/or the globe

Libraries:
Also check your local, country or state public library system! Some libraries have adjusted their licensing in the last few weeks to make more digital or Audible copies of antiracist and related books available.
If you live in PA, the Free Library of Philly has a collection pulled together that includes books and resources for kids, which may be extra helpful with if camps are closed in your area for the summer, as they are here. DC Public Library adjusted their licenses for the summer, especially for antiracist texts.
Inexpensive:

IVP is offering 50% off a range of relevant ebooks until the end of June.

Initially free, Verso Books is offering The End of Policing by Alex Vitale, and Police: A Field Guide by David Correia and Tyler Wall for $3 each.

And that's it! I hope that this list helped you find the tools you need for your journey, and that these offers are all still good by the time you get here.
---